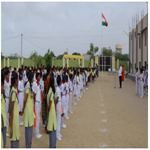 The school is situated in the calm and serene suburb of Bikaner. The school is away from the noisy and busy area of the city, which makes it an ideal place for learning. It was inaugurated in 2002 and in our first academic session we had only 22 kids in various classes. Now we are giving high quality education to more than 500 girls and boys.

In last 12 years we have grown both vertically and horizontally. In 2002 we had a very small structure of five rooms and classes up-to first only (now we have a spacious building with big play ground) and slowly we graduated to one class ever year. Since the first board exam of our school in 2012 we are giving 100% results year after year. In terms of infrastructure we have also grown tremendously. The school has well furnished, spacious rooms, well equipped computer lab, CCTVs, central announcement system, library, Digital classrooms, lush green compounds, huge play areas, volley-ball and basket ball courts, modern furniture, water coolers, UV water, 24 hours electric supply, neat and clean toilets, sport facilities.

The School is not only providing best facilities but also giving high quality education to its children along with a lot of extracurricular activities and competitions to develop their all round personality. We finish our courses well in time and tests are taken on daily basis, which help children to learn, understand and reproduce the knowledge gained by them. We invite famous celebrities to our school so that children can interact and learn from them. We also send our children outside to participate in various competitions and meets held by other institutions.